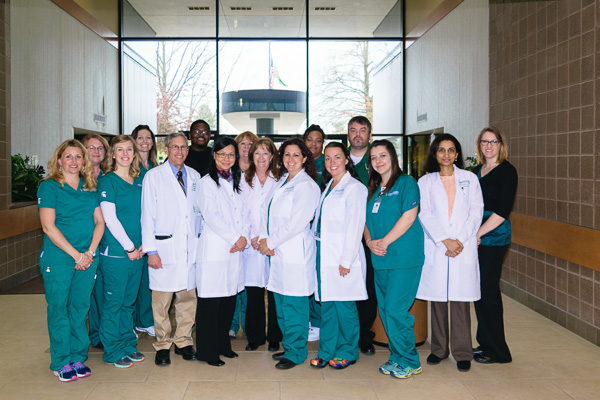 We are the Michigan State University Cystic Fibrosis Center, the largest clinical CF care center in central Michigan. Since 1990, we have delivered state-of-the-art holistic clinical care to pediatric and adult CF patients, and providing comprehensive education to families and caregivers. We are a core cystic fibrosis center, fully accredited by the Cystic Fibrosis Foundation, and our program consistently ranks as one of the top-performing CF centers in the country*.
*Based on nutritional (BMI) data in our children and adults.
The more things change the more things seem to stay the same. COVID is here for the near future. Until this is widespread effective vaccination our CF community remains at high risk from this virus. The MSU CF center is doing everything we can to monitor current best practices and follow the CF Foundations recommendations. Telehealth visits are going well. We encourage you to schedule an appointment if you have not already. We are doing drive by CF cultures when possible. Home spirometers are available in limited quantities from the CF foundation if needed. We are trying to adapt.
We do not anticipate in person visits anytime before July for our CF population. Until there is more widespread testing and contact tracing the risk to our patients is still unacceptably high for routine follow-up care. In the event someone is having trouble, we are able to order COVID testing, to a telehealth visit, and potentially perform a sick visit if testing is negative. These are all going to be done on a patient by patient basis depending on symptoms and severity.
We have had some staffing changes to report as well. Our long time dietitian Michele has moved on to a different position within the university in a teaching role. We will miss her tremendously both her experience and he kindness and willingness to go out of her way for the patients of our center. She has been replaced by Kent Clark an experience CF dietitian who is doing a wonderful job. Our social worker and mental health coordinator Erin has also moved on to a new position closer to home. This was certainly unexpected and she will be missed. She had an incredible rapport with patients and a comprehensive knowledge of the resources available for them. A position in in the process of being posted for a replacement but this it has been delayed by the COVID hiring freeze.
On a much happier note, the CF fighters have been very active in a positive way. They provided paint to help us redo our clinic's paint. Out team members worked long and hard to finish the painting. The rooms are colorful, themed and turned out beautifully. Eric posted a video on Facebook for those who are interested in seeing it. Additionally, the CF fighters sent out gift card to all of our patients in this difficult time. I can not begin to express my gratitude for this. We had patient and families in tears they were so thankful.
We appreciate your patience in this trying time. We will make it though this as a team.
Ryan Thomas, MD
Assistant Professor of Pediatrics
Director, MSU Cystic Fibrosis Center
Department of Pediatrics and Human Development
Michigan State University College of Human Medicine
With the ability to order COVID antibody testing more broadly I think it is important to understand how to interpret this result if you do it especially if you don't have a medical professional to discuss the result with. One of the weird things about interpreting some medical tests like this one is that the accuracy of the result is dependent on the likelihood you have the disease. For example, the Quest antibody test reports a specificity of 99%. (This has not been independently verified.) This is the probability the test will be negative when the disease is present. The higher the number the lower the number of false positive. For example, if we give 200 people the test and half of them are known to have the disease then we will get 100 positive results 99 from the group with the disease and 1 from the group that does not (false positive). This seems pretty good right?
The problem is this only really applies when the disease is present in about half of the population. As the prevalence in the community or likelihood someone has the disease goes down false positives become more of a problem because they make up a larger portion of the positive tests. (Currently, the best data we have suggests around 5% of Americans may have been infected though this data is very limited and is dependent on where you live. This would be considered the baseline risk you have the disease unless there is some other modifying factor.) To account for this, we use a test called the positive predictive value. This is the probability that the disease is present when the test is positive. For COVID antibody testing if we plug is a specificity of 99% and a prevalence of 5% we get a positive predictive value of 83.9%. This means that 1 in 6 positive antibody tests will be a false positive. So this increases the chance you had COVID from 5% to 84% but it by no means makes it certain you had COVID. We also don't know for certain these antibodies are protective (they are in the short term, 1-2 years, for other coronaviruses) but this is a separate topic.
This does not apply if you were symptomatic. For example, if you lost your sense of smell in the last couple of months there was a ~68% chance you had COVID based on the best data we have. Using this as the likelihood you had the disease increases the positive predictive value of the test to 99.5% making it highly likely you had COVID. The percentage of people who have any one symptom is different, so this only applies for loss of smell.
I hope this helps some of you either deciding to order the test or figuring out what to do with the information if you do.
References
https://www.webmd.com/lung/news/20200424/more-data-bolsters-higher-covid-prevalence
https://www.livescience.com/smell-loss-confirmed-covid-19-symptom.html
Ryan Thomas, MD
Assistant Professor of Pediatrics
Director, MSU Cystic Fibrosis Center
Department of Pediatrics and Human Development
Michigan State University College of Human Medicine
The MSU CF Center continues to adapt to the ever changing COVID pandemic. We have moved all of out CF visits to Telehealth visits using Zoom for the time being. We anticipate 8-12 weeks of Telehealth visits only for our CF patients at a minimum. For those of you who produce sputum we can send you a cup and order to collect a sample at home for our routine culture monitoring. We would need to see a large and sustained reduction in new cases before we would feel it was safe for our patients to come and be seen in clinic. We can potentially make exceptions in certain cirucmstances if necessary to ensure your health. Please feel free to reach out with questions or concerns. The Cystic Fibrosis Foundation has a wonderful Q & A page I encourage you to review as well. (CFF COVID-19 Community Questions and Answers)
Ryan Thomas, MD
Assistant Professor of Pediatrics
Director, MSU Cystic Fibrosis Center
Division of Pediatric Pulmonology, Allergy and Immunology
Department of Pediatrics and Human Development
Michigan State University College of Human Medicine
Last updated on March 16, 2020
With the rapid, global spread of the novel coronavirus and COVID-19 infection, it is clear that these are unprecedented times.
The CF Foundation cares deeply for the health and well-being of the CF community. While local authorities are enacting different measures in communities across the country, we are providing the following strengthened guidance to CF care teams and the CF community:
We strongly recommend that students with CF stay home from school. Distance learning or other remote options should be considered in all cases.
Adults with CF should work remotely whenever possible.
Routine well-visits should be conducted by telehealth approaches or postponed whenever possible. Care teams have been asked to think creatively, such as phone check-ins, to avoid unnecessary risk of exposure and pressure on their staff and healthcare institutions.
If you are participating in clinical research, please communicate with the research team about changes in your clinic visits.
The CF Foundation has provided care teams with template letters to support distance learning or remote work. These letters are also available through COMPASS (844-COMPASS). We encourage you to reach out to your care team for their assistance with these requests and any other specific health needs you have.
Based on the latest CDC guidance, the CF Foundation has extended its suspension on all in-person events from March 16 through May 10. Additionally, after careful consideration of the latest information, we have made the decision to transition all of our chapter offices, as well as the Bethesda office and warehouse, to remote work, effective Monday, March 16. CF Foundation staff are available should you have any questions.
Our thoughts are with you, and our commitment to our mission is unwavering. We will continue to provide the latest guidance through our FAQ on cff.org.
COVID-19 is a new coronavirus currently causing infections worldwide.
Most coronaviruses cause symptoms like the common cold with cough, congestion, runny nose, sneezing, and a sore throat for a few days.
COVID-19 can also cause a cold with mild symptoms or no symptoms. Most disease from COVID-19 will be mild.
We do not know specifically how COVID-19 may effct those with CF.
Children if they get sick tend to have just a bad cold and typically recover. Children are at less risk at risk for severe disease.
Severe disease occurs in adults and may be worse if you have heart disease, diabetes, high blood pressure, lung disease, or cancer or if you are over 60 years of age.
How to Protect You and Your Family
Wash your hands with soap & water for 20 seconds (sing ABCs) before and after eating, when returning home, after using the toilet, when soiled etc. Use alcohol rinse frequently when away from home.
Clean high touch areas like phones, light switches, remote controls, keyboards, door handles, table/desktops etc. with bleach based wipes at least once a day. Let the area dry completely before using again.
Avoid touching your eyes, nose and mouth.
Avoid people who are sick and stay away from crowded areas if possible.
If you are sick then stay home and cover your mouth and nose when coughing or sneezing. Wash your hands after coughing or sneezing. If you need to seek healthcare call and let them know you are ill before going.