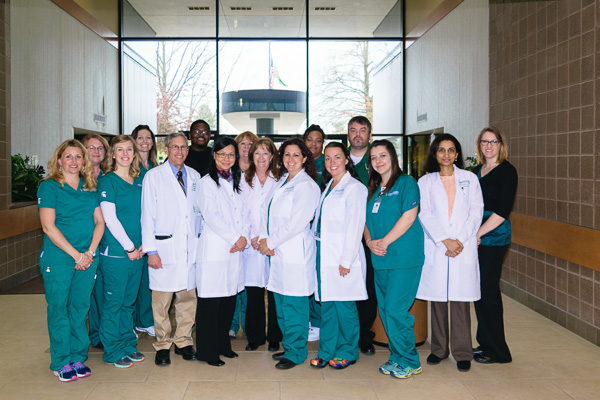 We are the Michigan State University Cystic Fibrosis Center, the largest clinical CF care center in central Michigan. Since 1990, we have delivered state-of-the-art holistic clinical care to pediatric and adult CF patients, and providing comprehensive education to families and caregivers. We are a core cystic fibrosis center, fully accredited by the Cystic Fibrosis Foundation, and our program consistently ranks as one of the top-performing CF centers in the country*.
*Based on nutritional (BMI) data in our children and adults.
School:
Most of our local school districts are returning for the new school year. Many, but not all, have started with online education. It is hard to make any specific recommendations about how to handle the school year without taking a full consideration all the different health and family dynamics for any one person with cystic fibrosis. We do know from very limited data that people with cystic fibrosis have a higher risk of hospitalization secondary to COVID-19. There is increasing evidence of children spreading the virus in communities where children have returned to school have led to an uptick in pediatric cases. If you have questions or concerns about how returning to school might affect the health of you, a family member or would simply like to discuss best ways to keep you and your family safe please reach out to the center for an appointment either in person or via telehealth.
Newborn Screening Website:
One of the things that came up at our first patient and family advisory board meeting was the need for more information on our website about newborn screening for CF. In response to this I have made a new page that has some information about newborn screening and CF in general. The link is below. This is a wonderful example of how feedback from the people with CF and their families can help us make a better experience for those who come to our center. If you are interested in joining our patient and family advisory board, please let Jaime know.
https://cysticfibrosis.msu.edu/index.php/newborn-screening
Podcast:
As some of you may know, I record podcasts for the American Thoracic Society. I recently recorded a podcast about CF exacerbations with an overview of some of the data and best practices. I will include the link below. Some of you may be interested in listening so I thought I would post it here.
https://www.thoracic.org/about/ats-podcasts/breathe-easy-pediatrics-presents-tidal-volume-episode-2-cystic-fibrosis-exacerbations.php
CF Fighters:
As many of you know, CF Fighters is a non-profit organization composed of volunteers dedicated to raising awareness and helping Michigan CF patients and families who need our assistance. They have provided, and continue to provide, wonderful resources and support for both out CF center and all the patients and families who we care for. If anyone is interested in giving to a truly wonderful causes the link is below. They also have fundraisers and raffles from time to time so check back frequently at their site, so you don't miss out on an opportunity to win some really cool stuff.
https://www.cffighters.org/donate.html
Ryan Thomas, MD
Assistant Professor of Pediatrics
Director, MSU Cystic Fibrosis Center
Department of Pediatrics and Human Development
Michigan State University College of Human Medicine
With the successful reopening of our PFT lab we are beginning to offer in person visits. The adult clinics and my CF clinic will be in person starting in July. Dr. Hurwitz will still be offering Telehealth clinics. This way patients and families can seek care in whatever way they feel is safest and best. Call the clinic or Jaime and arrange an appointment if you are interested. We may need to close to in person visits again depending on how the COVID-19 situation evolves.
In other news, adult and adolescents who receive care at our center may be eligible for a free home spirometer (pulmonary function test equipment). Please let us know if you are interested.
Ryan Thomas, MD
Assistant Professor of Pediatrics
Director, MSU Cystic Fibrosis Center
Department of Pediatrics and Human Development
Michigan State University College of Human Medicine
The MSU Pediatric Pulmonology Allergy and Clinical Immunology Clinic and Cystic Fibrosis Center pulmonary function laboratories will be reopening next week. We will be following European Respiratory Society Guidelines to ensure the testing will be safe for both our patients in our clinical staff. Some of the precautions being taken are spacing out of the time between tests so there will be adequate time for air turnover and deep cleaning between patients, enhanced personal protective equipment precautions for our staff, closing of the door of the pulmonary function box to ensure minimal aerosolization during the procedure. The laboratory will initially only be open for spirometry as more complicated testing carries and increased risk of aerosolization. The pulmonary function lab will remain open while the prevalence of the virus remains reasonably low in our community.
The reopening of the pulmonary function labs offers us the opportunity to begin to see our patients with cystic fibrosis in our clinic again. We will likely be moving forward with a mixture of in-person and telehealth visits until the pandemic is behind us. We ask for your patience and understanding while we try to maneuver in these difficult times and please know that any decision we make will be prioritizing the health and safety of our patients.
Below is an example of our current process.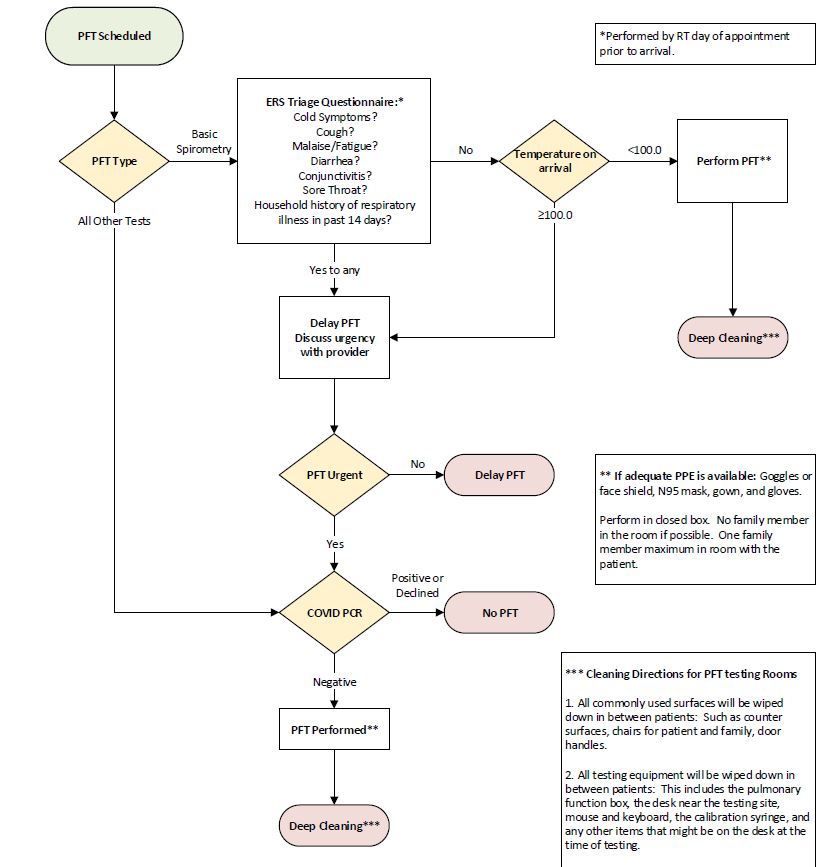 Ryan Thomas, MD
Assistant Professor of Pediatrics
Director, MSU Cystic Fibrosis Center
Department of Pediatrics and Human Development
Michigan State University College of Human Medicine
The more things change the more things seem to stay the same. COVID is here for the near future. Until this is widespread effective vaccination our CF community remains at high risk from this virus. The MSU CF center is doing everything we can to monitor current best practices and follow the CF Foundations recommendations. Telehealth visits are going well. We encourage you to schedule an appointment if you have not already. We are doing drive by CF cultures when possible. Home spirometers are available in limited quantities from the CF foundation if needed. We are trying to adapt.
We do not anticipate in person visits anytime before July for our CF population. Until there is more widespread testing and contact tracing the risk to our patients is still unacceptably high for routine follow-up care. In the event someone is having trouble, we are able to order COVID testing, to a telehealth visit, and potentially perform a sick visit if testing is negative. These are all going to be done on a patient by patient basis depending on symptoms and severity.
We have had some staffing changes to report as well. Our long time dietitian Michele has moved on to a different position within the university in a teaching role. We will miss her tremendously both her experience and he kindness and willingness to go out of her way for the patients of our center. She has been replaced by Kent Clark an experience CF dietitian who is doing a wonderful job. Our social worker and mental health coordinator Erin has also moved on to a new position closer to home. This was certainly unexpected and she will be missed. She had an incredible rapport with patients and a comprehensive knowledge of the resources available for them. A position in in the process of being posted for a replacement but this it has been delayed by the COVID hiring freeze.
On a much happier note, the CF fighters have been very active in a positive way. They provided paint to help us redo our clinic's paint. Out team members worked long and hard to finish the painting. The rooms are colorful, themed and turned out beautifully. Eric posted a video on Facebook for those who are interested in seeing it. Additionally, the CF fighters sent out gift card to all of our patients in this difficult time. I can not begin to express my gratitude for this. We had patient and families in tears they were so thankful.
We appreciate your patience in this trying time. We will make it though this as a team.
Ryan Thomas, MD
Assistant Professor of Pediatrics
Director, MSU Cystic Fibrosis Center
Department of Pediatrics and Human Development
Michigan State University College of Human Medicine
With the ability to order COVID antibody testing more broadly I think it is important to understand how to interpret this result if you do it especially if you don't have a medical professional to discuss the result with. One of the weird things about interpreting some medical tests like this one is that the accuracy of the result is dependent on the likelihood you have the disease. For example, the Quest antibody test reports a specificity of 99%. (This has not been independently verified.) This is the probability the test will be negative when the disease is present. The higher the number the lower the number of false positive. For example, if we give 200 people the test and half of them are known to have the disease then we will get 100 positive results 99 from the group with the disease and 1 from the group that does not (false positive). This seems pretty good right?
The problem is this only really applies when the disease is present in about half of the population. As the prevalence in the community or likelihood someone has the disease goes down false positives become more of a problem because they make up a larger portion of the positive tests. (Currently, the best data we have suggests around 5% of Americans may have been infected though this data is very limited and is dependent on where you live. This would be considered the baseline risk you have the disease unless there is some other modifying factor.) To account for this, we use a test called the positive predictive value. This is the probability that the disease is present when the test is positive. For COVID antibody testing if we plug is a specificity of 99% and a prevalence of 5% we get a positive predictive value of 83.9%. This means that 1 in 6 positive antibody tests will be a false positive. So this increases the chance you had COVID from 5% to 84% but it by no means makes it certain you had COVID. We also don't know for certain these antibodies are protective (they are in the short term, 1-2 years, for other coronaviruses) but this is a separate topic.
This does not apply if you were symptomatic. For example, if you lost your sense of smell in the last couple of months there was a ~68% chance you had COVID based on the best data we have. Using this as the likelihood you had the disease increases the positive predictive value of the test to 99.5% making it highly likely you had COVID. The percentage of people who have any one symptom is different, so this only applies for loss of smell.
I hope this helps some of you either deciding to order the test or figuring out what to do with the information if you do.
References
https://www.webmd.com/lung/news/20200424/more-data-bolsters-higher-covid-prevalence
https://www.livescience.com/smell-loss-confirmed-covid-19-symptom.html
Ryan Thomas, MD
Assistant Professor of Pediatrics
Director, MSU Cystic Fibrosis Center
Department of Pediatrics and Human Development
Michigan State University College of Human Medicine