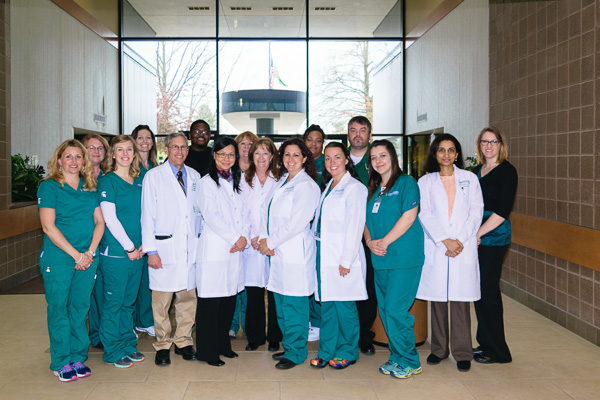 We are the Michigan State University Cystic Fibrosis Center, the largest clinical CF care center in central Michigan. Since 1990, we have delivered state-of-the-art holistic clinical care to pediatric and adult CF patients, and providing comprehensive education to families and caregivers. We are a core cystic fibrosis center, fully accredited by the Cystic Fibrosis Foundation, and our program consistently ranks as one of the top-performing CF centers in the country*.
*Based on nutritional (BMI) data in our children and adults.
The MSU CF Center continues to adapt to the ever changing COVID pandemic. We have moved all of out CF visits to Telehealth visits using Zoom for the time being. We anticipate 8-12 weeks of Telehealth visits only for our CF patients at a minimum. For those of you who produce sputum we can send you a cup and order to collect a sample at home for our routine culture monitoring. We would need to see a large and sustained reduction in new cases before we would feel it was safe for our patients to come and be seen in clinic. We can potentially make exceptions in certain cirucmstances if necessary to ensure your health. Please feel free to reach out with questions or concerns. The Cystic Fibrosis Foundation has a wonderful Q & A page I encourage you to review as well. (CFF COVID-19 Community Questions and Answers)
Ryan Thomas, MD
Assistant Professor of Pediatrics
Director, MSU Cystic Fibrosis Center
Division of Pediatric Pulmonology, Allergy and Immunology
Department of Pediatrics and Human Development
Michigan State University College of Human Medicine
Last updated on March 16, 2020
With the rapid, global spread of the novel coronavirus and COVID-19 infection, it is clear that these are unprecedented times.
The CF Foundation cares deeply for the health and well-being of the CF community. While local authorities are enacting different measures in communities across the country, we are providing the following strengthened guidance to CF care teams and the CF community:
We strongly recommend that students with CF stay home from school. Distance learning or other remote options should be considered in all cases.
Adults with CF should work remotely whenever possible.
Routine well-visits should be conducted by telehealth approaches or postponed whenever possible. Care teams have been asked to think creatively, such as phone check-ins, to avoid unnecessary risk of exposure and pressure on their staff and healthcare institutions.
If you are participating in clinical research, please communicate with the research team about changes in your clinic visits.
The CF Foundation has provided care teams with template letters to support distance learning or remote work. These letters are also available through COMPASS (844-COMPASS). We encourage you to reach out to your care team for their assistance with these requests and any other specific health needs you have.
Based on the latest CDC guidance, the CF Foundation has extended its suspension on all in-person events from March 16 through May 10. Additionally, after careful consideration of the latest information, we have made the decision to transition all of our chapter offices, as well as the Bethesda office and warehouse, to remote work, effective Monday, March 16. CF Foundation staff are available should you have any questions.
Our thoughts are with you, and our commitment to our mission is unwavering. We will continue to provide the latest guidance through our FAQ on cff.org.
COVID-19 is a new coronavirus currently causing infections worldwide.
Most coronaviruses cause symptoms like the common cold with cough, congestion, runny nose, sneezing, and a sore throat for a few days.
COVID-19 can also cause a cold with mild symptoms or no symptoms. Most disease from COVID-19 will be mild.
We do not know specifically how COVID-19 may effct those with CF.
Children if they get sick tend to have just a bad cold and typically recover. Children are at less risk at risk for severe disease.
Severe disease occurs in adults and may be worse if you have heart disease, diabetes, high blood pressure, lung disease, or cancer or if you are over 60 years of age.
How to Protect You and Your Family
Wash your hands with soap & water for 20 seconds (sing ABCs) before and after eating, when returning home, after using the toilet, when soiled etc. Use alcohol rinse frequently when away from home.
Clean high touch areas like phones, light switches, remote controls, keyboards, door handles, table/desktops etc. with bleach based wipes at least once a day. Let the area dry completely before using again.
Avoid touching your eyes, nose and mouth.
Avoid people who are sick and stay away from crowded areas if possible.
If you are sick then stay home and cover your mouth and nose when coughing or sneezing. Wash your hands after coughing or sneezing. If you need to seek healthcare call and let them know you are ill before going.
The MSU Cystic Fibrosis Clinic staff would like to invite your family to attend our 14th annual CF Family Education Day on Saturday 10/19/2019. This day is set aside for the families and caregivers of our CF Patients. The event will be held in the Heritage room of the Henry Center located in the University Club at 3435 Forest Road Lansing, MI 48910. A lunch buffet will be served. Please join us from 11:30am-2:30pm for this informative gathering.
Mark Levine will join us as our guest speaker and share both his and his younger brother's CF journey with us. He is a successful engineer, CF advocate, father and husband. "Can't wait" is not part of his journey, enjoying every moment matters most. Multiple vendors will be present and available to answer questions regarding products and services they offer.
To maintain clinical separation of friends with CF and to adhere to the CF Foundation guidelines, we ask that only family members and/or caregivers attend.

Please RSVP via phone 517-884-8614 or email jaime.croley@hc.msu.edu . Feel free to contact us with any questions or bring them with you to Family Day. We look forward to spending time with you.
For directions to Henry Center please see below
https://henrycenter.broad.msu.edu/contact-us/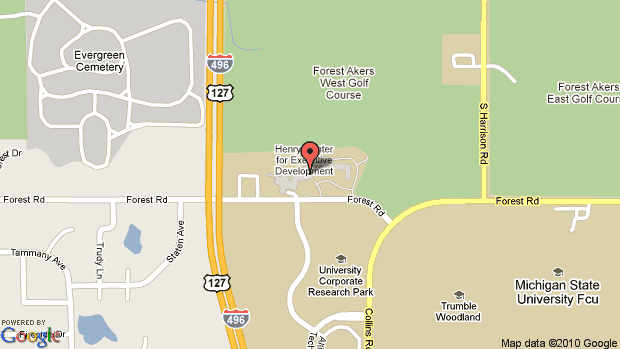 Sincerely,
Ryan Thomas, MD
Assistant Professor of Pediatrics
Director, MSU Cystic Fibrosis Center
Division of Pediatric Pulmonology, Allergy and Clinical Immunology
Department of Pediatrics and Human Development
Michigan State University College of Human Medicine
Great Strides 2019 Details
Date: 6/8/2019
Check-in: 10:00 AM
Walk: 11:00 AM
Distance: 5K
Chapter: Michigan-NW Ohio Chapter
Event Location: Hawk Island Park,
Lansing, MI
Registration: http://fightcf.cff.org/site/TR?fr_id=7249&pg=entry